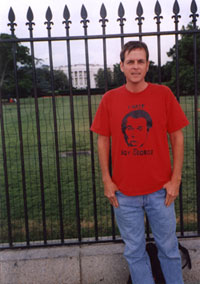 I've been asked by my friends that put together the web site to write a little about the Record Store. I'll try not to bore you!
Having a Punk Rock Store has been a dream of mine since high school (and that's been a long time believe me!). Well it's been four years now (1997) and I can honestly say this is the best Punk Rock Record store I've ever been to - a large selection of punk music and punk clothing including Fred Perrys. I've been to record stores throughout England, Scottland, Arizona, and all through California and I can honestly say, in MY opinion, Dr. Strange Records is the best. Sure there are other stores with more records, but none with more "punk" records. We also have a big selection of: Creepers, Boots, Bondage Belts, Studded Belts, Bondage Pants, Body Jewlery, Patches, Back Patches, Buttons, Stickers, Fred Perrys, Harringtons, Leather Jackets, Hair dye and tons more.
Since the store has been open we've had people from: Japan, Scotland, Canada, Indonesia, Sweden, England, Brazil, Peru, many touring bands from all over and people from all parts of the U.S. visit.
Besides being a cool record store the building itself has a lot of history. It's a historical landmark. It was built in 1906 and has been everything from the general store, the post office and fountain shop to name just a few. And now (and forever) it's 2300 square feet of pure punk rock!
If you're ever in Southern California I promise it's worth the drive. We're just 40 miles east of Los Angeles and we're open every single day from 11-7. Call us for directions (909) 944-1778 or go to www.yahoo.com and then click on maps for door-to-door directions. And don't forget about our weekly "specials"; Topless Tuesday (we all work topless,..just us guys but we have big "jugs") and Fecal Friday. Bring a stool sample and YOU win!